So…I'm back!
Or, well, I'd like to believe I am. :) No promises, though. ;) School has been very stressful since summer ended, to say the least, but now things have calmed down a bit, meaning I have a few tags, as well as a book haul, planned for you. :)
With that out of the way, let's get down to business. I was tagged an embarrassingly long time ago by The Journeys of a Girl to do the My Life in Books Tag, and now I'm finally doing it. Thank you so much for tagging me, and I'm so sorry for waiting this long!
On to the questions. :)
1. Find a book for each of your initials
B – The Book Thief by Markus Zusak
L – Leviathan by Scott Westerfeld
O – Harry Potter and the Order of the Phoenix (is this cheating? Nah)
2. Count your age along your bookshelf: What book is it?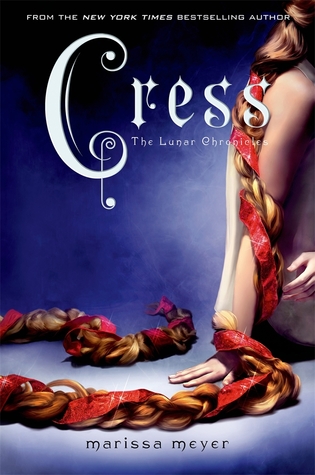 Cress by Marissa Meyer.
Sometimes it's good to be 20. ;)
3. Pick a book set in your city/country
The Hundred-Year-Old Man Who Climbed Out of the Window and Disappeared by Jonas Jonasson.
I don't think I've ever come across a book set in my actual home town, so country will have to do. :) Which is, you know, Sweden. ;)
4. Pick a book that represents a destination you'd love to travel to
The Heroes of Olympus-series by Rick Riordan.
I would absolutely love to go to Rome someday, and this series definitely reminds me of that!
5. Pick a book that's your favorite color
The Ask and the Answer by Patrick Ness.
Such beauty…
6. Which book do you have the fondest memories of?
Well, probably the Harry Potter series, but to be honest, I have fond memories of almost all my books. It's kind of funny because I can usually remember where I was and things like what music I listened to while reading my favourite books for the first time, but I have to think really hard to recall what I did only a few days ago.
Ah, priorities….
7. Which book did you have the most difficulty reading?
Hm, let's see…maybe The Lost Hero by Rick Riordan.
I mean, I've definitely read books more difficult to get through, but this one just comes to mind. It's not a bad book at all. It's actually, like all Riordan's books, pretty amazing. However, I really missed the old crew and it took me quite some time to fully accept the new characters. You get me?
8. Which book in your TBR pile will give you the biggest accomplishment when you finish it?
Oh this is easy! The Complete Sherlock Holmes by Sir Arthur Conan Doyle!
I really look forward to the day when I can say I've finished this baby. But when will that be….
And that was all. :) Once again, thank you to The Journeys of a Girl for tagging me, I really appreciate it! :)
See you guys soon!