Hello again :)
Since I'm in a tag mood right now, I'm going to go ahead and do another one. :) This was created by A Clockwork Reader, and as soon as I saw it, I knew I needed to do it myself. Avatar is fantastic and if you haven't tried watching it yet, it's definitely time. ;)
So let's take a look at those questions shall we? :)
Katara and Sokka: Best sibling relationship
The Lynch brothers from The Raven Cycle by Maggie Stiefvater
These brothers don't have what you would usually think of as a loving sibling relationship. In fact, for the majority of the series, they appear to hate each other (except for Matthew, he's a cinnamon roll). Despite this, or perhaps because of it, you can't help but root for them. Their family might be a bit messed up, but that doesn't make it any less of a family.
"From their father, the Lynch brothers had gotten indefatigable egos, a decade of obscure Irish music instrument lessons, and the ability to box like they meant it."

− The Raven Boys

"The Lynch brothers had fought,  but that was merely evidence that they were both still breathing."

− The Dream Thieves

"On the outside, the three Lynch brothers appeared remarkably dissimilar: Declan, a butter-smooth politician; Ronan, a bull in a china-shop world; Matthew, a sunlit child. On the inside, the Lynch brothers were remarkably similar: They all loved cars, themselves, and each other."

− The Raven King
Yue: Favorite star-crossed lovers
Ollie and Moritz from Because You'll Never Meet Me by Leah Thomas
Okay, okay, so they're not exactly lovers…yet! But a reader can dream, right?
In any case, if I'm not mistaken, friends love each other too, and if these guys ever met, one of them would probably end up dead. So definitely star-crossed.
"Maybe we're on the wrong side of some metaphorical bridge where the grass is crusty and not grass at all, but sharp little spines of glass. I dunno, Moritz.
But the one little speck of green that I get is your letters, so please never stop writing me.
You got that?
Never stop.

Because you'll never meet me and it's the closest we can get."

− Because You'll Never Meet Me
Blood Bending: A book with a disturbing/unsettling concept
The Unwind Dystology by Neal Shusterman
For those of you who don't know, Unwind depicts a dystopian society where unwanted kids can be "unwinded" by their parents/legal guardians. This means that up until a certain age, every child runs the risk of being sent to a camp where they will be picked apart and used for their organs.
If that's not messed up and disturbing, I don't know what is.
I highly recommend it.
"In a perfect world everything would be either black or white, right or wrong, and everyone would know the difference. But this isn't a perfect world. The problem is people who think it is."

− Unwind

"Unwinds didn't go out with a bang – they didn't even go out with a whimper. They went out with the silence of a candle flame pinched between two fingers."

− Unwind
Toph – A character who's strength surprised you/or surprised the other characters in the book
Lev from the Unwind Dystology by Neal Shusterman
Speaking of Unwind, let's talk about one of the amazing characters in it!
At the beginning of the series, Lev is this really young, brainwashed brat, who willingly leaves his home to be unwinded. He goes through some serious character development as the story progresses, though, and by the end, he's probably the strongest and bravest of them all.
"No true hero ever believes that they are one."

− Unsouled
The Tales of Ba Sing Se – best short story/poetry collection
Stars Above by Marissa Meyer
To be honest, I don't have that many collections to choose from, but Stars Above is, in any case, pretty good. :)
It was nice to get to know the characters better, both from before The Lunar Chronicles, and after. It made it a bit easier to say goodbye. ;)
"The first time, he had wondered why she liked books so much, and if it had anything to do with why he liked spaceships. Because they could take you somewhere far, far away"

− Stars Above
Kioshi Warriors: Best warrior character
Vin from the Mistborn trilogy by Brandon Sanderson
Okay, Vin is fierce AF, and if you don't agree with me, you're crazy.
"Elend started. "Vin!" Then, he smiled. "What took you so long?"
"I got delayed by an Inquistor and a dark god," she said. "Now hustle."

− The Hero of Ages

Zuko: Best redemption arc/a redemption arc that should have happened
Davy Prentiss Jr from the Chaos Walking trilogy by Patrick Ness
I had to ponder this for some time before I remembered mr. Davy "doucheface" Prentiss Jr, but he's actually quite perfect.
If you'd have told me in The Knife of Never Letting Go that I would like, or even just feel a little bit of sympathy for this bastard, I would have laughed in your face.
Well played, Patrick Ness. Well played…
"Yer the only friend I got, pigpiss… Ain't that the biggest tragedy you ever heard?"

− The Ask and the Answer
Iroh: Wisest character
Sazed from the Mistborn trilogy by Brandon Sanderson
Sazed is one of my favourites from this series, and that's saying something, believe me.
And by the way, Sazed > Dumbledore, because he actually shares his wisdom. ;)
"You said their prayer – is this the religion you believe in, then?"
"I believe in them all."
Vin frowned. "None of them contradict each other?"
Sazed smiled. "Oh, often and frequently they do. But, I respect the truths behind them all — and I believe in the need for each one to be remembered."

− The Final Empire
Azula: Best downfall
The Mayor from the Chaos Walking trilogy by Patrick Ness
Unlike his son, the Mayor receives no sympathy from me. At all. In fact, his downfall is probably one of the most satisfying things I've ever experienced as a reader.
Burn you crazy creep!
"A monster, I think, remembering what Ben told me once. War makes Monsters of Men."

− Monsters of Men
Appa: Favorite fictional animal
Bovril from the Leviathan series by Scott Westerfeld
Bovril. It's always going to be Bovril. I love Bovril. I NEED Bovril.
Please give me a perspicacious loris.
"Oh, this beast? It's…a perspicacious loris. 'Perspicacious' meaning 'wise or canny'."
"Get stuffed," Bovril said, then giggled.
"And it insults people," Tesla said. "How peculiar."

− Goliath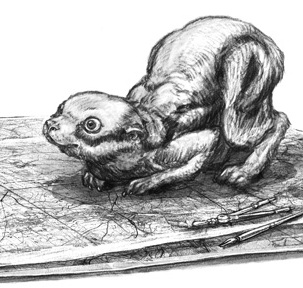 Aang: Purest cinnamon roll
Noah from The Raven Cycle by Maggie Stiefvater
Noah is definitely the creepiest cinnamon roll I've ever come across, but a cinnamon roll nonetheless!
So pure.
"Noah had wandered down the aisle, but now he gleefully returned with a snow globe. He stood behind Ronan until he pushed off the shelf to admire the atrocity. A seasonally decorated palm tree and two faceless sunbathers were trapped inside, along with a painted, erroneous statement: IT'S ALWAYS CHRISTMAS SOMEWHERE.
"Glitter," whispered Noah reverentially, giving it a shake."

− The Dream Thieves
Avatar state: A stubborn character/a character that struggles with letting go
Viviane Lavender from The Strange and Beautiful Sorrows of Ava Lavender by Leslye Walton
This is a woman who held on to a doomed relationship for more than 16 years (probably even more than 20 years), and I'm not sure if it's more impressive or sad.
Sad, I think.
"By this point Viviane Lavender had loved Jack Griffith for twelve years, which was far more than half of her life. If she thought of her love as a commodity and were to, say, eat it, it would fill 4,745 cherry pies. If she were to preserve it, she would need 23,725 glass jars and labels and a basement spanning the length of Pinnacle Lane.

If she were to drink it, she'd drown."

− The Strange and Beautiful Sorrows of Ava Lavender
And that's it! It's not a great surprise because Avatar, duh, but I really enjoyed doing this tag. :) You should give it a try yourself . ;)
And now I just want to rewatch the show…typical