Please keep on reading if you wish to find out a bit more about: Wyrd Sisters, Prudence, and The Strange and Beautiful Sorrows of Ava Lavender.
I hope you'll find something of interest. :)
♦ ♦ ♦ ♦ ♦ ♦ ♦ ♦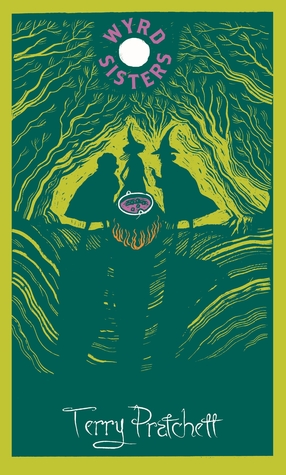 Title: Wyrd Sisters
Author: Terry Pratchett
First published:  January 1st 1988
Pages: 368 (Hardcover)
Date read: March 13th 2015
Series: Discworld #6 (though you can read it without having read the others, I did)
My rating: 4/5 stars
 The Synopsis:

Witches are not by nature gregarious, and they certainly don't have leaders.

Granny Weatherwax was the most highly regarded of the leaders they didn't have.

But even she found that meddling in royal politics was a lot more difficult than certain playwrights would have you believe…
My Comments

Okay, listen to me. This book is hilarious. Really, it is. Seriously. Terry Pratchett is made of magic.

And you know what makes it even more awesome? I can't tell if it's aimed more towards children or adults. Isn't that fantastic?
You should read this if you like…

To laugh
Magic
Witches
Ghost kings
Kings in hiding
Sadistic duchesses
Crazy dukes
Clever fools
Romantic witches
Drunk witches
Grumpy witches with Views
Witches that should NOT be allowed to ride broomsticks
Murderous cats
Death…you know, like actual black coat and scythe Death
Tea and biscuits
The theatre
Craziness
Bizarreness
Murder
Backstabbing…literally
Medieval times
Torture
Fantasy
Washroom demon summonings
A small taste:

"She walked quickly through the darkness with the frank stride of someone who was at least certain that the forest, on this damp and windy night, contained strange and terrible things and she was it."

♦ ♦ ♦ ♦ ♦ ♦ ♦ ♦

"I hate cats."
Death's face became a little stiffer, if that were possible. The blue glow in his eye sockets flickered red for an instant.
"I SEE," he said. The tone suggested that Death was too good for cat haters."
  ♦ ♦ ♦ ♦ ♦ ♦ ♦ ♦
Author: Gail Carriger
Published:  March 17th 2015
Pages: 368 (Hardcover)
Date read: March 26th 2015
Series: The Custard Protocol #1
My rating: 4/5 stars
 The Synopsis:

When Prudence Alessandra Maccon Akeldama (Rue to her friends) is given an unexpected dirigible, she does what any sensible female would under similar circumstances – names it the Spotted Custard and floats to India in pursuit of the perfect cup of tea. But India has more than just tea on offer. Rue stumbles upon a plot involving local dissidents, a kidnapped brigadier's wife, and some awfully familiar Scottish werewolves. Faced with a dire crisis and an embarrassing lack of bloomers, what else is a young lady of good breeding to do but turn metanatural and find out everyone's secrets, even thousand-year-old fuzzy ones?
My Comments

First of all, yes, it is possible to read this without having read the Parasol Protectorate-series first, but I really advise you against it. You will miss out on so much.

Secondly, this book made me so happy. So, so happy. Man, I love this world and all its characters.
You should read this if you like:

Parasol Protectorate
To laugh
Steam punk
The 19th century
Air travel
Ladybug dirigibles
Charming French engineers
Grumpy gingers
Powerful lady friendships
Flirtatious banter

Explosions
Tea
Werewolves
Vampires
Over-protective parents with a dramatic streak
Adventure
India
Craziness
Fabulousness
Scandalous clothing choices
Secret missions
Hats…so many hats
A small taste:

"But, Rue, I'm all too often seen on wolfback. If I take to floating as well, people will say I'm − oh, I don't know − athletic."

♦ ♦ ♦ ♦ ♦ ♦ ♦ ♦

"Rue gave a little mental sigh. No one would ever describe her as deadly attractive. She brightened a bit. Perhaps she could aspire to just deadly."
  
♦ ♦ ♦ ♦ ♦ ♦ ♦ ♦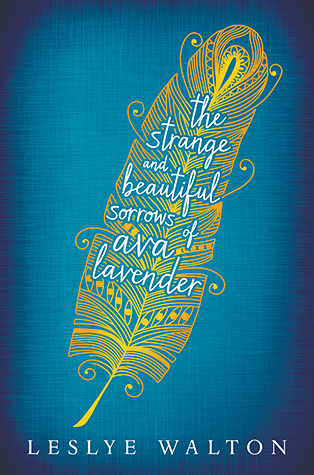 Title: The Strange and Beautiful Sorrows of Ava Lavender
Author: Leslye Walton
Published:  March 27th 2014
Pages: 301 (Hardcover)
Date read: April 5th 2015
My Rating: 5/5 stars
 The Synopsis:

Magical realism, lyrical prose, and the pain and passion of human love haunt this hypnotic generational saga.

Foolish love appears to be the Roux family birthright, an ominous forecast for its most recent progeny, Ava Lavender. Ava—in all other ways a normal girl—is born with the wings of a bird.

In a quest to understand her peculiar disposition and a growing desire to fit in with her peers, sixteen-year old Ava ventures into the wider world, ill-prepared for what she might discover and naïve to the twisted motives of others. Others like the pious Nathaniel Sorrows, who mistakes Ava for an angel and whose obsession with her grows until the night of the Summer Solstice celebration.

That night, the skies open up, rain and feathers fill the air, and Ava's quest and her family's saga build to a devastating crescendo.

First-time author Leslye Walton has constructed a layered and unforgettable mythology of what it means to be born with hearts that are tragically, exquisitely human.
My Comments

Oh my goodness. This book. This book! 

Okay, this book made me feel all kinds of things. It made me care for the characters after basically no time at all. It made my heart pound like crazy. It gave me chills. It made me keep thinking of it long after I'd put it down.

In other words, I thought it was fantastic.
You should read this if you like:

Magical realism
The 20th century
Lovely writing (and by lovely I mean LOVELY)
Betrayal
Despair
Unfairness
To feel empty
To cry
Heartbreak
Suffering
Scars
Pain
(I think you get the picture)
Symbolism
Strangeness
Whimsicality
Hauntingly beautiful books
Books that make you think
Books that make you feel
An interesting and complex set of characters
Tragic love
Happy love
Actually, every kind of love there is
Crazy obsessive creepers/fanatics
The Night Circus by Erin Morgenstern
A small taste:

"If mother kept a list of the reasons she confined me to the house on the hill, she'd have a length of paper that could stretch all the way down Pinnacle Lane and trail into the waters of the Puget Sound. It could choke passing sea life. It could flap in the wind like a giant white flag of surrender atop our house's widow's walk."

♦ ♦ ♦ ♦ ♦ ♦ ♦ ♦

"When American soil could be seen from the ship, the passengers breathed a collective sigh of relief so strong, it caused a change of direction in the winds, which added a day to their trip, but no matter."
 
♦ ♦ ♦ ♦ ♦ ♦ ♦ ♦