Please proceed if you wish to find out a bit more about: The First Fifteen Lives of Harry August, Burial Rites, and A Darker Shade of Magic. :)
Oh, and I believe all of these actually fall under the adult category. That's surprising.
I hope you'll find something you might want to read. :)
♦ ♦ ♦ ♦ ♦ ♦ ♦ ♦
Title: The First Fifteen Lives of Harry August
Author: Claire North
Published:  April 8th 2014
Pages: 405 (Hardcover)
Date read: February 15th 2015
My rating: 5/5 stars
 The Synopsis:

Harry August is on his deathbed. Again.

No matter what he does or the decisions he makes, when death comes, Harry always returns to where he began, a child with all the knowledge of a life he has already lived a dozen times before. Nothing ever changes.

Until now.

As Harry nears the end of his eleventh life, a little girl appears at his bedside. 'I nearly missed you, Doctor August,' she says. 'I need to send a message.'

This is the story of what Harry does next, and what he did before, and how he tries to save a past he cannot change and a future he cannot allow.
My Comments

Man, this was good. So damn good.

Such beautiful writing..and the characters! Seriously, the characters… 

I should probably mention that this book has quite a lot of science stuff in it that can be difficult to understand at times, but I personally didn't mind.  :)

So good!
You should read this if you like…

…or at least don't mind somewhat slow pace
History
Time travel…sort of
Beautiful writing
Cleverly woven stories
Interesting and complex characters
To ponder about the meaning of life
Jumps back and forth in time
Logic…yet not really. It depends on how you see it
Torture (because what's a book without torture, am I right?)

Great

villains 
Character development
Complicated relationships
Liars
Deceit
Science
Sci-fi
Suspense
Standalones
Reincarnation 
Asylums
Did I mention great villains, because that's an important one
So much torture
Vicious by V. E. Schwab
The Night Circus by Erin Morgenstern (I feel like they have kind of similar style, though the stories are

completely

different)
A small taste:

"Everyone's a decent person," she replied softly, "in their own eyes."

♦ ♦ ♦ ♦ ♦ ♦ ♦ ♦

"Time was simple, is simple. We can divide it into simple parts, measure it, arrange dinner by it, drink whisky to its passage. We can mathematically deploy it, use it to express ideas about the observable universe, and yet if asked to explain it in simple language to a child–in simple language which is not deceit, of course–we are powerless. The most it ever seems we know how to do with time is to waste it."
  ♦ ♦ ♦ ♦ ♦ ♦ ♦ ♦
Author: Hannah Kent
Published:  September 10th 2013
Pages: 338 (Hardcover)
Date read: February 26th 2015
My rating: 4.5/5 stars
 The Synopsis:

Northern Iceland, 1829.

A woman condemned to death for murdering her lover.

A family forced to take her in. A priest tasked with absolving her.

But all is not as they had assumed, and time is running out: winter is coming and with it the execution date.

Only she can know the truth.
This is Agnes's story.
My Comments

I read this book mainly because of the "read a book based on a true story"-challenge, but ended up actually loving it. I believe, though, that you need to be in the right mood when you pick it up. It's not for everyone.
You should read this if you like:

Extremely depressing, though fabulous, atmospheres
History
The 19th century
Books based on true stories
To rage about injustice
Hauntingly beautiful writing
Iceland
Scandinavia
Creepiness
Somberness
Hopelessness
(in the best possible way, of course)
Intrigue
Mystery
Murder
Jane Eyre (The overall feeling, I think)
A small taste:

"To know what a person has done, and to know who a person is, are very different things."

♦ ♦ ♦ ♦ ♦ ♦ ♦ ♦

"They will see the whore, the madwoman, the murderess, the female dripping blood into the grass and laughing with her mouth choked with dirt. They will say "Agnes" and see the spider, the witch caught in the webbing of her own fateful weaving. They might see the lamb circled by ravens, bleating for a lost mother. But they will not see me. I will not be there."
  ♦ ♦ ♦ ♦ ♦ ♦ ♦ ♦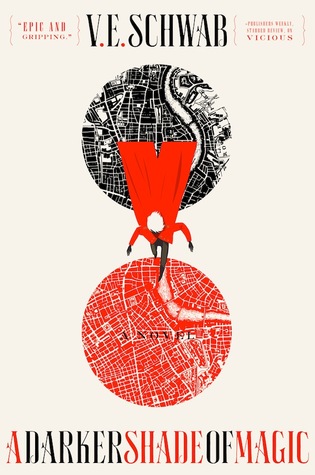 Title: A Darker Shade of Magic
Author: V. E. Schwab
Published:  February 24th 2015
Pages: 40 (Hardcover)
Date read: March 1st 2015
My Rating: 4/5 stars
 The Synopsis:

Kell is one of the last Travelers—rare magicians who choose a parallel universe to visit.

Grey London is dirty, boring, lacks magic, ruled by mad King George. Red London is where life and magic are revered, and the Maresh Dynasty presides over a flourishing empire. White London is ruled by whoever has murdered their way to the throne. People fight to control magic, and the magic fights back, draining the city to its very bones. Once there was Black London – but no one speaks of that now.

Officially, Kell is the Red Traveler, personal ambassador and adopted Prince of Red London, carrying the monthly correspondences between royals of each London. Unofficially, Kell smuggles for those willing to pay for even a glimpse of a world they'll never see. This dangerous hobby sets him up for accidental treason. Fleeing into Grey London, Kell runs afoul of Delilah Bard, a cut-purse with lofty aspirations. She robs him, saves him from a dangerous enemy, then forces him to another world for her 'proper adventure'.

But perilous magic is afoot, and treachery lurks at every turn. To save all of the worlds, Kell and Lila will first need to stay alive — trickier than they hoped.
My Comments

I think this series has a LOT of potential, but I can't say that the first book fully lived up to my expectations. In some ways I kind of wish it'd had 50-100 more pages, if only so that there would have been more room for the characters and their relationships to each other to develop in the book. You know, without the story feeling rushed.

Don't get me wrong, though, I REALLY, really enjoyed it, and I 100 % encourage you to pick it up if you like V. E./Victoria Schawb's previous books.
You should read this if you like:

Thieves and thievery
Aspiring pirates (with the emphasis on aspiring)
Cross dressing girls
BLOOD
Magic
London
Parallel worlds
Adventure
Fantasy
Creepy villains
Fancy coats
Self-assured and charming womanizing/man..izing (?) princes
Mind controlling sadists
Broody villain dudes that might not be villains. Maybe.
Tyranny
Gingers
Masquerade balls
Dark and evil powers (*insert manic laughter*)
Strip teasing
Death
A small taste:

"Kell wore a very peculiar coat. It had neither one side, which would be conventional, nor two, which would be unexpected, but several, which was, of course, impossible."

♦ ♦ ♦ ♦ ♦ ♦ ♦ ♦