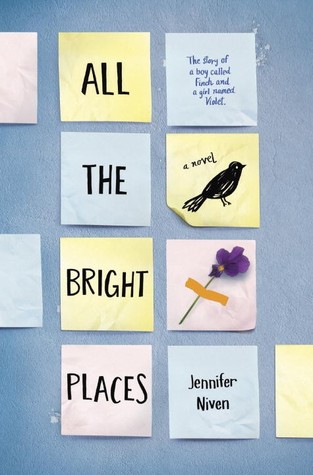 Novels: 10

Novellas/short stories: 1 (Leave the Window Open by Victoria Schwab doesn't have a cover)

Graphic Novels: 3

Total: 14

Total: 4481 pages

Finished Series/Trilogies/Duologies: 2

Started Series/Trilogies/Duologies: 1
A book set in the future – Ready Player One
Admittedly not very far in the future, but in the future all the same ;).
A book with a number in the title – This One Summer
One is a number.
A book with a one-word title – Unmade
And Unmade is one word.
A book you started but never finished (and now picked up again) – Clockwork Prince
I read the three first books in The Mortal Instruments and Clockwork Angel sometime around 2011-2012. I then immediately picked up Clockwork Prince…only to stop about halfway in and then move on to something else. Don't ask me why because I have no idea.
I've finished it now, though. Hooray!
A book that made you cry – Ways to Live Forever
Yeah…a story about an 11-year-old kid dying of cancer. I didn't expect anything less.
A book with a love triangle – Clockwork Princess
Not a fan of love triangles. Never been and never will be. This is pretty good, though (still would have prefered it not to have been there to be honest).
A book mainly about friendship – How to Say Goodbye in Robot
A very dysfunctional and unhealthily intense friendship, but still a friendship. Don't expect any romance.
A book by an author you've never read before – Wonder
I really, really liked this. You have impressed me, R. J. Palacio. nice first impression.
A graphic novel – Amulet, Vol 1
I'm trying to get more into graphic novels, and I liked this one. The art is fabulous (the same guy that did the new Harry Potter covers in 2013).
A book a friend recommended – The Song of Achilles
We have discussed this book quite a lot, me and her. If you know the original story (The Iliad), you might understand the source of our rage.
A book with nonhuman characters – The Darkest Part of the Forest
Faeries, man. Tricky little bastards.
A book set in high school – All the Bright Places
Not a high school I would want to go to. In fact, reading about american high schools always reminds me how glad I am never to have gone to an american high school (is it really like in the books? I genuinely want to know).
3 Favourite Covers:
The Darkest Part of the Forest
Wonder
Ready Player One
3 Favourite Books:
Ready Player One
Wonder
The Song of Achilles
3 Favourite Characters :
Kami Glass (Unmade)
Auggie (Wonder)
Kami Glass's dad, Jon Glass (Unmade)
3 Favourite Relationships (Romantic or not):
Patroclus & Achilles (The Song of Achilles)
Will & Jem (The Infernal Devices)
Kami & Angela (The Lynburn Legacy)
There's just something about the month of January. I'm not certain what it is, but it sure is good for my reading ;).
This month I've read some really lovely books, and I'm super pleased that I've finally finished The Infernal Devices (which I started reading in 2012), as well as picked up a couple of books I've had on my to-read shelf on goodreads for ages and ages.
Though I didn't find any new "favourite of all time"-books, the overall average was just above 4 stars, and I'm definitely happy about the books I did read. :)
In 2014, January was my best month and February was my worst. Let's hope that the second part of that statement won't be true for this year. ;) But I guess we'll just have to wait and see. :)
Did you have a good start of 2015? Read anything amazing? Tell me about it down in the comments. :)