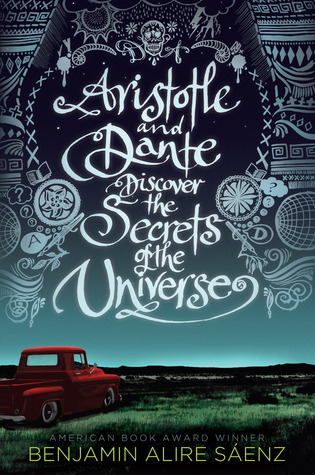 Title: Aristotle and Dante Discover the Secrets of the Universe
Author: Benjamin Alire Sáenz
Published:  February 21st 2012

Pages: 359 (Hardcover)
Date read: August 08, 2014
Synopsis from Goodreads:

A lyrical novel about family and friendship from critically acclaimed author Benjamin Alire Sáenz.

Aristotle is an angry teen with a brother in prison. Dante is a know-it-all who has an unusual way of looking at the world. When the two meet at the swimming pool, they seem to have nothing in common. But as the loners start spending time together, they discover that they share a special friendship—the kind that changes lives and lasts a lifetime. And it is through this friendship that Ari and Dante will learn the most important truths about themselves and the kind of people they want to be.
Review:
How am I even supposed to do this thing? How can I accurately describe my feelings toward this gorgeous novel to you?
I don't know.
I mean, what do you say about a book that managed to capture you completely, just with a few words?
What do you say about a book that now refuses to let you go, days and days after you've read the last sentence?
What do you say about books such as Aristotle and Dante Discover the Secrets of the Universe?
I loved it? It doesn't feel like enough, but I guess I'll just have to work with what I have.
The first thing that caught my attention (other than the cover) was, as I mentioned above, the writing. Yes, there's a lot of dialogue and inner thoughts, but that's the kind of writing I love the most. Simple and complicated at the same time. The kind of writing that gives you chills, and makes you want to hug the book forever. It's beautiful, raw, true, relatable, and quotable. It's plain gold.
"The problem with my life was that it was someone else's idea."
When it comes to the characters, Aristotle and Dante won all the awards in my opinion, which is a very good thing since the story is quite character-driven. Ari and Dante were fantastic, and climbed their way high up on the list of my favourites ever, but I'm actually going to leave it at that. Instead, I'm going to applaud the author on his fabulous secondary characters, especially the parents. Often in YA-books, we only get introduced to the family for the singular reason that the main character is too young to live alone, but this time I almost cared about their story as much as I did about Ari and Dante's. I wanted to know who they were and what made them that way, and at the end of the book, I was just as interested in what would become of them.
"I smiled at him. "You know what the worst thing about adults is?"
"No." 
"They're not always adults. But that's what I like about them.""
Aristotle and Dante Discover the Secrets of the Universe is a book about friendship, family, life, love, and identity. While reading it, I cried both of happiness and sadness, and everything felt so right and perfect. It's one of the best books I've read this entire year, and that, I think, is all you really need to know. The rest you'll have to discover for yourself.
Buuuuut, in case you still need a small push, let me share a little story. You see, I have these friends that I always try to persuade into reading different books that I think they might like. I tell them over and over again how much I loved the story in question, how fabulous I think the characters are, and why I think they'll probably feel the same. The problem is that they, on principle or something, get more reluctant to read a book the more I push them. Imagine trying to feed a wild animal. Approach it with food, and the animal will most likely run away, no matter how much it wants it. If you on the other hand just leave the food in the forest, it might find it and eat it at some point or another.
My friends are that animal.
So anyway, in 2012 I got kind of tired of the whole thing (I mean, they clearly didn't appreciate my efforts), resulting in me not gushing over The Fault in Our Stars to a certain friend I suspected might love it as much as I did, even though I wanted to. A couple of months later she picked it up, and of course adored it. She then proceeded to ask me why I hadn't made her read it earlier (I know, right). So, fast forward to August 2014, the night I finished Ari and Dante. I immediately texted my friend about it, and pulled what we now call "the TFiOS-card". This doesn't mean that they're the same or anything, but rather that if my friend should ever trust my judgement, this was the right time to do it. And she did (she loved it).
I know, this might seem like an unnecessary story, but what I'm trying to say is that this book is amazing, and you should give it a chance. Believe me, I'm not kidding around, and I definitely don't use the TFIOS-card lightly.
5/5 Stars
Quotes:
"I got to thinking that poems are like people. Some people you got right off the bat. Some people you just didn't get − and never would."