♦♦♦♦♦♦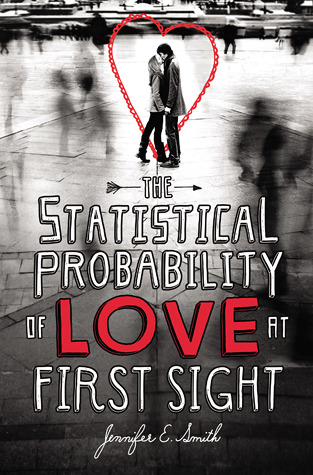 Title: The Statistical Probability of Love at First Sight
Author: Jennifer E. Smith
Publication Date: January 1st 2011
Length: 236 pages (Hardcover)
Synopsis from Goodreads:

Who would have guessed that four minutes could change everything?

Today should be one of the worst days of seventeen-year-old Hadley Sullivan's life. Having missed her flight, she's stuck at JFK airport and late to her father's second wedding, which is taking place in London and involves a soon-to-be stepmother Hadley's never even met. Then she meets the perfect boy in the airport's cramped waiting area. His name is Oliver, he's British, and he's sitting in her row.

A long night on the plane passes in the blink of an eye, and Hadley and Oliver lose track of each other in the airport chaos upon arrival. Can fate intervene to bring them together once more?

Quirks of timing play out in this romantic and cinematic novel about family connections, second chances, and first loves. Set over a twenty-four-hour-period, Hadley and Oliver's story will make you believe that true love finds you when you're least expecting it.
Review:
From this point forward, The Statistical Probability of Love at First Sight will go under the name of TSPoLaFS.
Good?
Beautiful.
TSPoLaFS is a nice example of why I shouldn't  let other people's opinions have too much of a say in what I read or not read (not everybody have the same taste after all). You see, I've had my eyes set on this one for at least two years now, and I didn't pick it up until last month, mostly because it's often described on Goodreads as okay rather than good….and I actually really liked it.
I liked the cute dialogue between Hayden and Oliver, and sure, there was a bit of insta-love, but that was kind of the point, wasn't it?
I liked the flashbacks, and the exploration of Hayden's relationship to her parents, and especially her father.
I liked that this, her family situation that is, actually had more focus than the love story.
Yes, this is, with only 236 pages, a rather short story, but it still managed to pull me in, and that's quite of an achievement. :) I really felt for Hayden, and I kind of developed the same feelings of anger/love towards her father as she did.
Overall it was a really sweet story with tinges of seriousness, and I did cry at more than one point (it kind of made me think about my relationship to my own parents, even though it's not at all the same), so bravo. :) Definitely recommend if you want a quick summer read about family and love. :)
4/5 Stars
Quotes:
"It's one thing to run away when someone's chasing you. It's entirely another to be running all alone." 
♦♦♦♦♦♦ 
Title: Can You Keep a Secret?
Author: Sophie Kinsella
Publication Date:December 31st 1999 
Length: 416 pages (Paperback)
Synopsis from Goodreads:

Meet Emma Corrigan, a young woman with a huge heart, an irrepressible spirit, and a few little secrets: " Secrets from her boyfriend: "I've always thought Connor looks a bit like Ken. As in Barbie and Ken." Secrets from her mother: " I lost my virginity in the spare bedroom with Danny Nussbaum while Mum and Dad were downstairs watching "Ben-Hur. Secrets she wouldn't share with anyone in the world: "I have no idea what NATO stands for. Or even what it is. Until she spills them all to a handsome stranger on a plane. At least, she thought he was a stranger….Until Emma comes face-to-face with Jack Harper, the company's elusive CEO, a man who knows every single humiliating detail about her…
Review:
I've read a few books by Sophie Kinsella before, but this one is by far my favourite. :) It is hilarious, embarrassing (in a good way), and has romance that will put an enormous smile on your face. :) The characters are in their twenties as well, so you can enjoy it even though you, like me, aren't technically an adult yet. :) (meaning it's not about marriage or other more "adult problems")
As most of Kinsella's main characters, Emma lies more than what's good for her, but unlike Becky Blomwood, she actually learns from her previous mistakes. She is quirky, endearing and fun, and I really liked reading her story. :)
This sure is what you would call a feel-good book, and if you ever need something uplifting and easy, definitely give this one a chance. :)
(I've already used like five smileys in this extremely short review, and that maybe says more than any words could about my feelings toward the book. ;))
4/5 Stars
Quotes:
"If you can't be honest with your friends and colleagues and loved ones, then what is life all about?"
"OK, so I don't understand about 90 per cent of what they're saying. But then I didn't understand much of my GCSE French Oral either, and I still got a B."
♦♦♦♦♦♦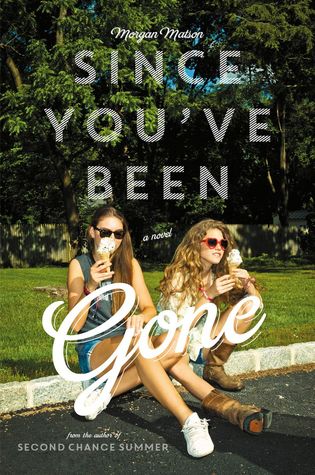 Title: Since You've Been Gone
Author: Morgan Matson
Published: May 6th 2014
Length: 449 pages (Hardcover)
Synopsis from Goodreads:

Starting over sucks.

The Pre-Sloane Emily didn't go to parties, she barely talked to guys, she didn't do anything crazy. Enter Sloane, social tornado and the best kind of best friend—the one who yanks you out of your shell.But right before what should have been an epic summer, Sloane just… disappears. No note. No calls. No texts. No Sloane. There's just a random to-do list. On it, thirteen Sloane-selected-definitely-bizarre-tasks that Emily would never try… unless they could lead back to her best friend. Apple Picking at Night? Ok, easy enough.Dance until Dawn? Sure. Why not? Kiss a Stranger? Wait… what?

Getting through Sloane's list would mean a lot of firsts. But Emily has this whole unexpected summer ahead of her, and the help of Frank Porter (totally unexpected) to check things off. Who knows what she'll find?

Go Skinny Dipping? Um…
Review:
First road trips and now bucket lists? Wow, Morgan Matson sure knows how to make my reader heart happy. :)
As you might know, Amy & Roger's Epic Detour is one of my favourite contemporaries ever, and this one was almost as good. It was cute, funny, and well written, and I really liked the main character Emily. It's true that one of my favourite things in the world is when characters are witty and socially superior to myself, but I can't really connect the same way to those characters since they're not at all like me. Emily kind of was. She is the kind of person who relies on more outgoing people to do the heavy lifting in social situations, and who needs time to truly come out of her shell, but the moment she's more comfortable, turns into a different person with a bigger personality than you initially thought.
I don't think I'm the only person in the world who can relate to that. ;)
Since You've Been Gone is a super lovely summer book, with a perfect balance of friendship and romance, and the awkward situations and funny dialogue made me laugh several times. The flashbacks were great as well, and connected well with the things that happened to Emily and the gang in the present. :) Also, funny minor characters that had lives outside of the main characters story. I give my full approval to that.
Basically, this is a book about finding your own identity, and  the courage to put yourself out there. It also shows you that nobody is perfect, and that what you see with your own eyes is rarely the whole truth (it reminded me slightly of Paper Towns).
Fantastic story and gorgeous cover art! You should read it.
4.25/5 Stars
 Quotes:
"This felt like the way you get nervous right before something exciting happens-the moment when you're balanced on the top of the roller coaster, the hush before the surprise party, the second after the diving board but before the water, when you can close your eyes and imagine, for just a second, that you're flying. The feeling that good things were coming, almost here, any moment now." 
 ♦♦♦♦♦♦